President: Alba Vergés i Bosch, Consellera de Salut
1st Vicepresident: Ramon Tremosa Balcells, Conseller d'Empresa i Coneixement
2nd Vicepresident: Joan Elias García, Rector UB
Secretary: Montserrat Figuerola Batista, Gerent de l'Àrea Metropolitana Sud de l'ICS
Chair: Joan Gómez Pallarès, Director General de Recerca
Chair: Robert Fabregat Fuentes, Director General de Recerca del Departament de Salut
Chair: Domènec Espriu Climent, Vicerector Recerca UB
Chair: Candela Calle Rodríguez, Directora General ICO
Chair: Cristina Capdevila Aguilera, Directora de Centre HUB
Chair: Anna Clopés Estela, Adjunta a la Direcció de l'Institut Català d'Oncologia
Chair: Núria Marin Martínez, Alcaldessa
Chair: Iolanda Font de Rubinat Garcia, Subdirectora General de Recerca
Chair: Montserrat Llavayol Giralt, subdirectora de Recerca i Innovació del Departament de Salut
Chair: Josep Batista Trobalón, Vicerector Personal Docent i Investigador UB
Ernest Arenas Cases, MD, PhD. Professor of Stem Cell Neurobiology & Chairman of the Department of Medical Biochemistry and Biophysics. Karolinska Institut, Sweden
Paolo Gasparini, PhD. Istituto di Ricovero e Cura a Carettere Scientifico maternoinfantile Burlo Garofolo, Trieste
Lisardo Boscà Gomar, PhD. Centro de Investigaciones Biomédicas Alberto Sols, Madrid
Robert Sackstein, MD, PhD. Professor, Harvard Medical School Director, Program of Excellence in Glycosciences. Physician, Brigham & Women's Hospital/Dana Farber Cancer Institute, Boston, MA, USA
Ana Aranda Iriarte, PhD. Departamento de Fisiopatología Endocrina y del Sistema Nervioso, Instituto de investigaciones Biomédicas "Albert Sols"
Sonia Martínez Arca, PhD. Directora Gerente Agencia de Conocimiento en Salud, ACIS
Ana Maria Cuervo, PhD. Albert Einstein College, New York.
PRESIDENT
Josep Manuel Menchón   |   Scientific Director IDIBELL
Raul Delgado   | Deputy Scientific Director IDIBELL
MEMBERS
Gabriel Capellá   |   General Director IDIBELL
Ramon Salazar   |  Scientific Director and Head of the ICO Medical Oncology Service
Josep Maria Piulats   |   ONCOBELL Co-coordinator
Isabel Fabregat   | ONCOBELL Co-coordinator
Esteve Fernández   | EPIBELL Coordinator
Francisco Ciruela   | NEUROBELL Coordinator
Angel Raya   |  REGENBELL Coordinator
Eduard Montanya   |  Scientific program coordinators: Translational Medicine Area
Jordi Carratalà   | Scientific program coordinators: Translational Medicine Area
Virginia Nunes   | Scientific program coordinators: Translational Medicine Area
Josep Mª Llop   | Scientific program coordinators: Translational Medicine Area
Òscar Martínez-Tirado   |  IDIBELL personnel representantative
Fernando Fernández Aranda   |  Member
F. Xavier Matías-Guiu   |  BIOBANK HUB-ICO-IDIBELL Deputy Scientific Director
Ruth de Diego   |  ICREA researcher
Miquel À. Pujana   |  Pro-Cure representantative
Antònia Perelló   |  Viladecans Hospital representantative
Oriol Casanovas   |  ERC researcher
Montserrat Martí   |  CSI Scientific Director
Encarna Grifell   |  Strategic Planification Director. Territorial Managegement of the Southern Metropolitan Area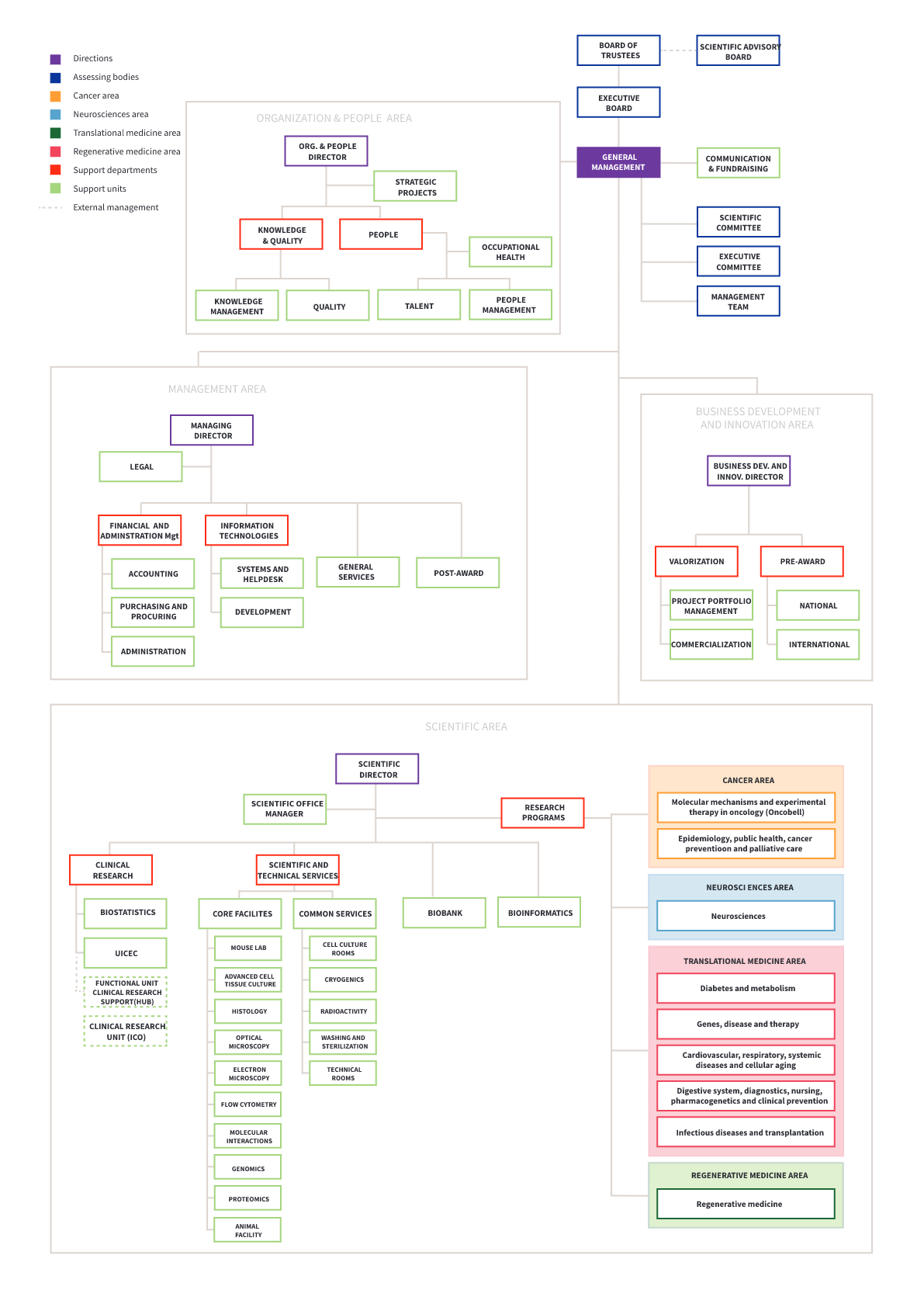 General director
Gabriel Capellá
Scientific Director
Josep Manuel Menchón
Organization and People Director
Marina Rigau
Business Development & Innovation Director
Raquel Egea
Management Director
Magda Martí